Our Foundations
MySep Pte Ltd was incorporated in 2013 with the goal of providing the industry standard for separator design and performance analysis. MySep software is founded on industry expertise in separation technology and practice that are firmly based on almost 2 decades research and troubleshooting experience.
Seminar Industry Recognition
The standing of MySep Pte Ltd across the industry can be gauged by support for its most recent industry seminar in Houston.  
Collaborating with Kranji Solutions, MySep assembled a balanced representation of interests encompassing: 
Upstream and downstream process operators: Chevron, BP, BHP Billiton, Conoco Phillips, ExxonMobil, Marathon Petroleum
Engineering contractors and service providers: Chiyoda, Bechtel, Modec, NOV, SBM Offshore, SNC Lavalin, Technip FMC, Universal Pegasus, Worley Parsons
Leading separation experts: Ken Arnold (Worley Parsons), Bob Chin (Consultant, former Shell), Ed Grave (Consultant, former ExxonMobil)
Process simulation software vendors and MySep partners: AspenTech, Bryan Research & Engineering, Honeywell, KBC, Schneider Electric, VMG
Separation Equipment Vendors: AMACS, BWFS Industries, Technip FMC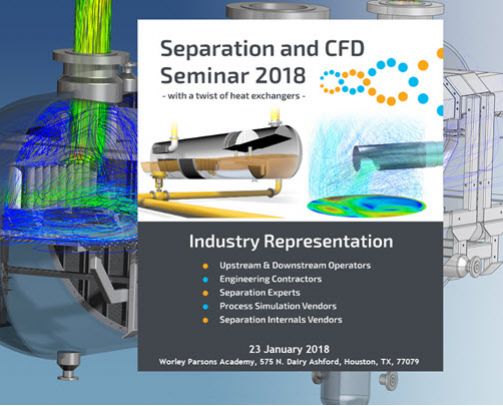 Customer Domain Expertise
Industry leading customers have benchmarked MySep modelling against in-house models and research data as part of their adoption process.  Other users take confidence in MySep results from the endorsement and long-term use by numerous international Operators. For the Engineering Contractors the recommendation of their clients in the Oil & Gas Operations sector is a vital consideration
MySep Research
MySep's research is conducted by our sister company, Kranji Solutions Pte Ltd: www.kranjisolutions.com 
Kranji undertakes commercial contract research on separation and related issues in multi-phase flow. 
MySep research involves laboratory tests, analytical model development and correlation as well as CFD modelling. The models and correlations within MySep software have been developed, validated, and updated from such studies.  MySep's droplet size distribution & mist fraction models have been derived in this way. Kranji research work underpins the incremental separation efficiency and pressure drop methods the software applies for separation calculations. 
MySep has assembled proprietary methods for modelling behaviour of internal equipment such as: cyclonic inlet devices; mesh demisters; vane-pack demisters; cyclonic demisters; mesh and vane-type agglomerators.      
THE BACK STORY
From roots in advanced separation equipment supply, MySep's founders established the Kranji Solutions consultancy and forged a reputation for independent solution of mal-performance and process up-grade. Kranji also provide contract research services and specialist separation equipment development. Serving their world-wide client base, Kranji developed MySep software as an in-house tool to support their consulting services. The software allowed engineers to quickly screen issues and augment CFD modelling analysis. Kranji's customers persuaded the company to make MySep software available for commercial licensing.  MySep Pte Ltd was launched in 2013 as a business focused on licensing separation software to customers across the process industry.