MYSEP Masterclass – Digital Twin Real Value
The background of a highly volatile energy sector was the stage for a key presentation by MySep's Tom Ralston and Wim Moyson, at the prestigious Oil and Gas Digital Twin Conference 2022.
The conference brought together around 400 leading companies and 720 attendees, over 11th to 13th May, with representation from leading operators like: ADNOC, Saudi Aramco, BP, Cepsa, Chevron, CNOOC, ExxonMobil, Petrobras, Petronas, Repsol and Shell.
Engineering companies and consultants were also strongly represented including: Chiyoda, Kent, McDermott, Saipem, Technip Energies, Wood and Worley.  In addition, MySep's partners and collaborators, amongst the simulation software providers were well represented with: AspenTech, AVEVA, Honeywell, KBC and Schlumberger.   
Boost Production by How Much?
MySep posed the international delegates a hard to ignore question:
"ever thought of boosting your production facility revenue by $300 million a year?"
The multi-million-dollar revenue increase was demonstrated in a case study - centred on the real impact of mist carry-over in a production separation system - that formed the core of the online presentation: 'Production Process Digital Twins: Real Value Mandates Modelling Rigour'
MySep Conference Presentation
WIM MOYSON:

"The digital twin allows operators to understand if they can operate safely whilst maximising revenue and profit. Our customers are finding the value of embedding separator modelling rigour."
TOM RALSTON:

"Without rigorous modelling operators don't know how much mist is produced or how they can reduce this – to allow production of more oil & gas! By adding MySep Engine to the Digital Twin simulation, they can enhance fidelity, capturing the real impact of liquid carry over with gas."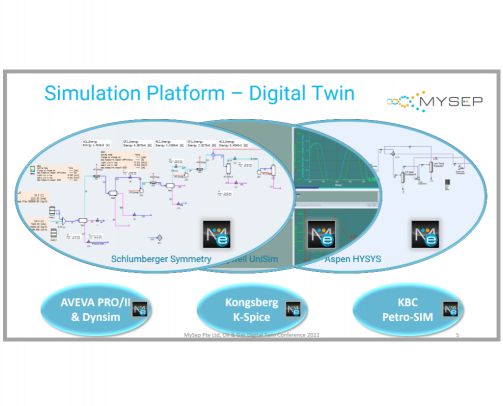 Key Takeaways
Commercial process simulators are the platforms on which dynamic or steady-state digital twins are built. Importantly, MySep Engine can embed in all. That means the software is agnostic and able to be integrated all of the leading software simulation packages to delivering rigorous modelling of separator gas liquid performance.
Many key operational decisions depend on accurate material and heat balances, which are only achievable when phase separation unit operations are properly modelled.
Future Developments
In common with other enterprise and engineering applications – cloud platforms are being explored.
MySep is partnering with industry software leaders on exciting on-line applications. For example, MySep's partner Schlumberger can furnish MySep Software with the Symmetry process simulator and their other production process software through the cloud-based DELFI* cognitive E&P environment. 
In addition:
MySep Customers are developing Online Digital Twins

Linking in DCS and data historian process information

Building live performance KPI dashboards

Enhancing AI and Machine Learning with MySep carry-over data and process warnings